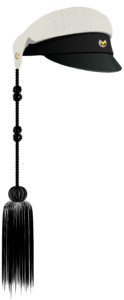 The model of the Teekkari cap has been influenced by Swedish technology student cap, the color being white in the Finnish model. The Teekkari cap in Oulu differs considerably from the caps in other Teekkari cities. It has taken its example from the Sámi hat of four winds. Thus, the Teekkari cap in Oulu, unlike in other places, has a drop on its right side, where the tasseled rope also begins. The traditions related to the Cap also differ between different Teekkari cities. The cap  must be worn in accordance with the rules of the association selling it.
A knot will be tied to the tassel rope of the cap in honor of every Teekkari Wappu spent in Oulu. It is thus possible to deduce Teekkari's annual course from the knots in the rope. The tassel rope can only hold 4 knots, so a slipknot is tied after the fifth Wappu. After that the years aren't been counted and many use just the impression "Nth year". When Teekkari in Oulu graduates, the nodes will be opened in the Diploma Conderment Ceremony. A knotless Cap is thus a sign of graduation. This only applies only for the Teekkari cap of Oulu. Other places have their own meaning for knots. For example, it might mean getting married.
Each guild has its own cockade to be worn on the forehead of the cap. Teekkari cap must not be worn without one. The now chairperson of OTY and ones before him/her use the OTY cockade instead of their guild one. Both OTY and several other associations also have their own board cockards. They are worn on the drop. They are a sign of working in the board.
For the freshmen, the Teekkari cap will be handed over after Wappu's rituals, in which case those who survived the ordeal will be granted the title of Teekkari.